PERM-Ads.com specializes in placement of 20 CFR 656.17 compliant Labor Certification recruitment advertising (classified job ads) for Immigration Law Firms and Employers / Petitioners.

We handle multiple phases of Labor Certification advertising including review, pricing and placement of immigration ads in any national or local newspaper of general circulation, radio station, trade associations, or on-line job board. We can also place SWA Job Orders.
Documentation / Evidence of recruitment is included with each ad, in the form of Newspaper Tear Sheets, Radio Station Scripts & Invoices, and PDF printouts of all Online Postings such as SWA Job Orders, Online Job Search ads, Employer Website job postings, and Trade Organization online job board postings, for use in DOL Form 9089 Recruitment Report.  Click Here To Request Pricing.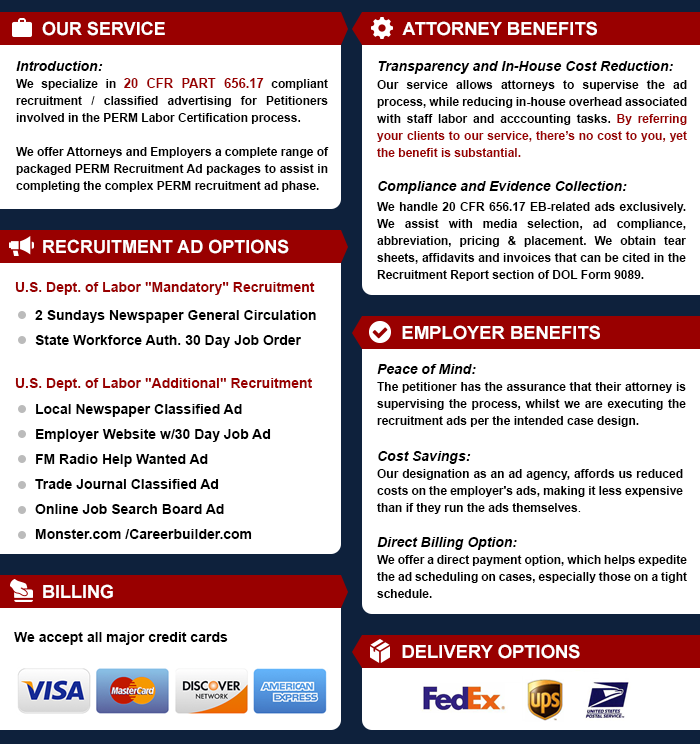 Nationwide Coverage
We can run PERM Advertising within any city in the U.S.  Below is our Media Map, showing all newspapers of general circulation, as well as radio stations.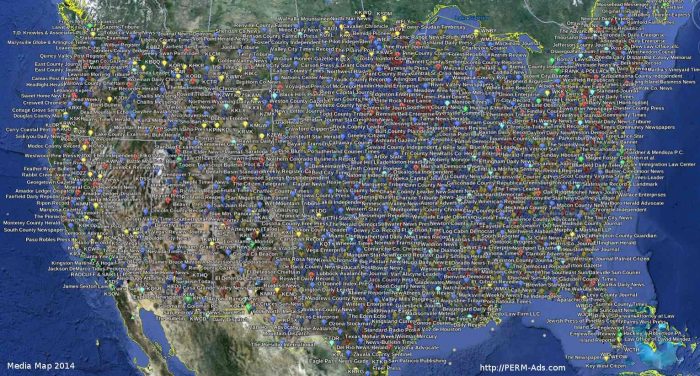 Mandatory PERM Recruitment Options we can help you with:
Additional PERM Recruitment Steps we can help you with: (choose 3 or more)

Local or Ethnic Newspaper Ads

Employer Website Job Postings

[New and/or existing websites!]

Online Job Boards [Monster.com, Careerbuilder, Indeed.com]

Trade Journals & Trade Association Job Boards

Electronic Tear Sheets, PDF Printouts & related documentation are provided for each ad:
The primary goal of PERM recruitment advertising for attorneys and employers is obtaining evidence of the ads having run, that they can cite in the "recruitment report" section of attestation known as DOL Form 9089.

For newspaper print ads, we provide hard copy or electronic PDF tear sheets emailed immediately after each ad runs. Most newspapers now consider hard copy tear sheets out-dated and inefficient, so they normally provide only electronic tear sheets. This is acceptable due to the fact DOL itself prefers electronic submission of ad evidence.
All radio ad evidence is documented with a script, and invoice in PDF format emailed upon completion of the ad airing. Invoices are from the radio station, on their official letterhead, warranting the ads ran at a specific time and date. Details also include employer business name and job title advertised.
All online SWA Job Order postings, Employer Website job postings, Trade Organization online job board postings and Online Job Search ads are documented with dated PDF printouts emailed immediately upon start and end dates of each posting. Each set contains a Start date printout indicating the date the item was posted, with a corresponding End Date Printout done on the last day (30th day) the posting was active.
An Instant Delivery option is available via Courier or FedEX. Once your ads have run, we can arrange instant delivery of the evidential documents to your office. This cuts down on waiting times and allows you to have the necessary paperwork to file your 9089 accurately and quickly.

Direct Billing & Online Payment Options:
We can bill employers directly, which frees law firms from endless and costly accounting overhead. Online payment is available, as well as credit card payment via fax, email, or phone.
Ad Tracking System:
We run a state-of-the-art tracking system that is specifically designed for PERM. Your staff can track and monitor the ad placement status & evidential document acquisitions for hundreds of cases.
Request A Free Quote Online:
As mentioned above, our service is often cheaper than if the employer buys the ads themselves.
This is due to the fact we are a recognized ad agency.  Thus, media outlets pay us a commission of 15%-20% on ads, in the form of a discount on the ad price.
We can also directly bill employers so that the law firm doesn't have to manage excess accounting.
Many law firms also request that we work directly with employers, and in fact, we do exactly that on many cases for small and medium size firms.
PERM Labor Certification ad placement is a crucial phase, it's during this recruitment that strict attention to detail and timing cannot be an afterthought.
Our focus is on your recruitment time line, getting your recruitment ads in on schedule, in in full compliance with DOL regulations.
Trust us for your PERM Labor Certification ad placement needs.