A newspaper of general circulation as referred to by CFR 656.17 can be thought of as the largest daily newspaper in a given area that publishes on Sundays.
There are some technical aspects of a newspaper of general circulation which we can go into in this article.
The issues start where a job site is located exactly between two major areas, or is located nowhere near any major city.
This is where the phrase Metropolitan Statistical Area comes in.  For example, even though a job site located in Fairfax, Virginia, it can actually be considered as part of the Washington DC Metropolitan Area, thereby allowing for the Washington Post to be used as newspaper of general circulation.
This is because the DC Metro Area is the largest pool of potentially qualified Americans that can apply for the job.  You'd still make every effort to also cover Virginia, but perhaps with just a single Sunday, or two "locals".
Remember, the PERM guidelines for a mandatory 2 Sundays in print don't mean you need to limit the scope of recruitment. In fact it's better to cover many bases, as you'll never need to go to court to file a Motion To Reconsider for having not recruited in good faith.
A job site in The Villages, Florida, is another great example of how hard it is to determine a newspaper of general circulation. There's only swamplands to the East, and the only close major city is 30 miles away in Ocala FL.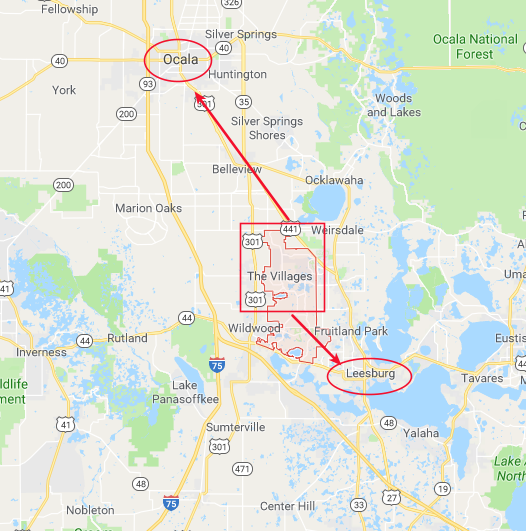 So you'd do 2 Sundays in the local Sunday paper (newspaper of general circulation), 1 Sunday on Ocala, and 2 locals, a radio, and on-line job search posting.
Newspaper circulation should be your last concern when dealing with the many pitfalls of PERM.
PERM-Ads.com Can Help:
Our firm specializes in assisting immigration attorneys and employers with packaged PERM recruitment advertising services, including review, pricing and placement of classified job ads in any national or local newspaper of general circulation, radio station, trade journal, or on-line job board.  We can also assist with DOL on-line registration, and posting of State Workforce Authority SWA Job Orders.
Tear sheets & Affidavits Included for use in the DOL Form 9089 Recruitment Report.
Click here to view a PERM advertising sample.  To request a FREE price quote, click here.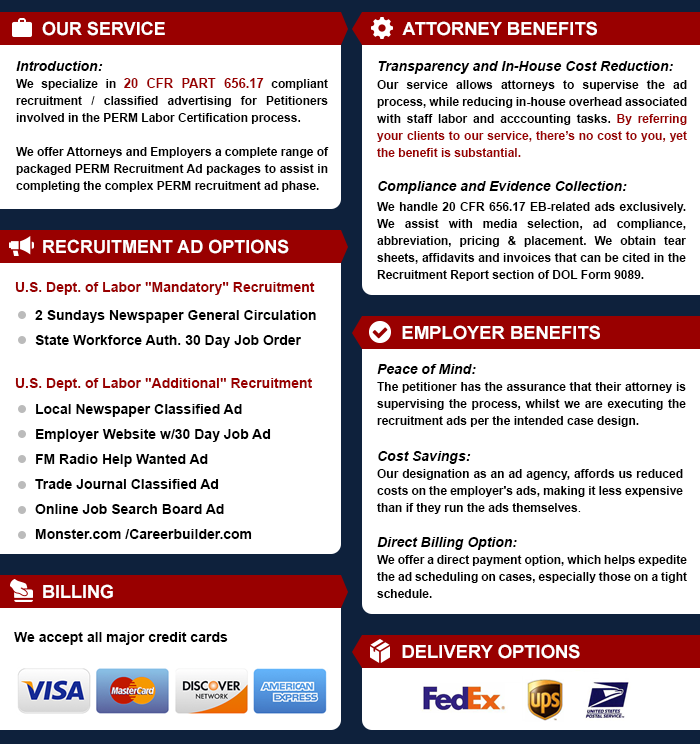 PERM Recruitment Advertising in Any City or State:
We can run PERM Advertising within any newspaper of general circulation in any city or state in the U.S.  Below is our Media Map, showing all newspapers of general circulation, as well as radio stations.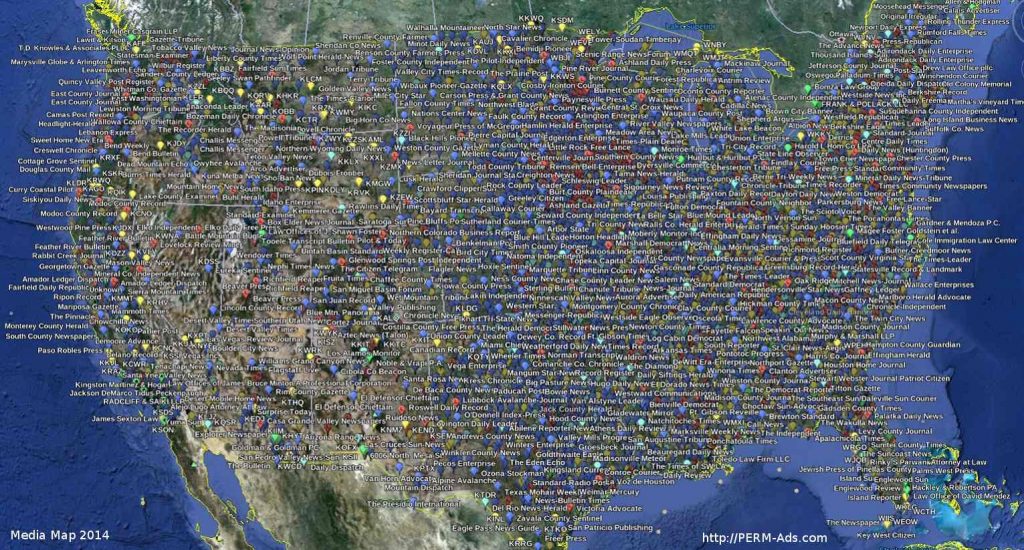 Tear Sheets & Affidavits Included:
The primary goal of PERM recruitment advertising for attorneys and employers is obtaining evidence of the ads having run, that they can cite in the "recruitment report" section of attestation known as DOL Form 9089.

For newspaper print ads, we offer both hard copy and electronic tear sheets, depending on what the newspaper itself actually provides. Most newspapers now consider hard copy tear sheets out-dated and inefficient, so they normally provide only electronic tear sheets. This is acceptable due to the fact DOL itself prefers electronic submission of ad evidence.
Direct Billing & Online Payment Options:
We can bill employers directly, which frees law firms from endless and costly accounting overhead. Online payment is available, as well as credit card payment via fax, email, or phone.
Ad Tracking System:
We run a state-of-the-art tracking system that is specifically designed for PERM. Your staff can track and monitor the ad placement status & evidential document acquisitions for hundreds of cases.