Need to run an immigration advertisement for a PERM Labor Certification filing?
Our company can help. We specialize in assisting law firms or employers with running an immigration advertisement in their area, anywhere in the US.
We handle all phases of Labor Certification recruitment ads including job title correlation with NAICS codes, job duty, education & experience requirement composition, abbreviation, review, pricing, scheduling, placement and tear sheet collection of any immigration advertisement in any national or local newspaper of general circulation, radio station, trade journal, or on-line job board.
To request a quote, click here.  Click on the link to view a PERM advertisement sample.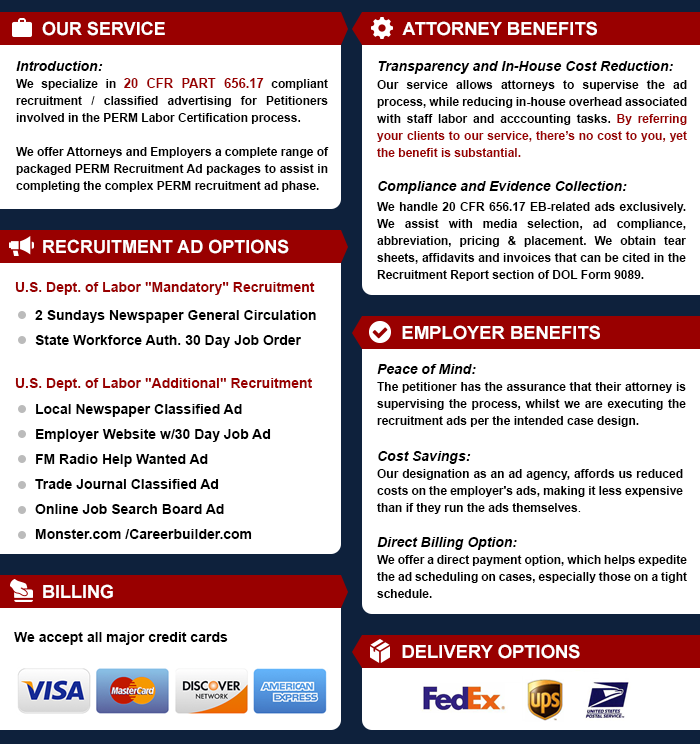 Nationwide Coverage
We can run an immigration advertisement within any city in the U.S.  Below is our Media Map, showing all newspapers of general circulation, as well as radio stations.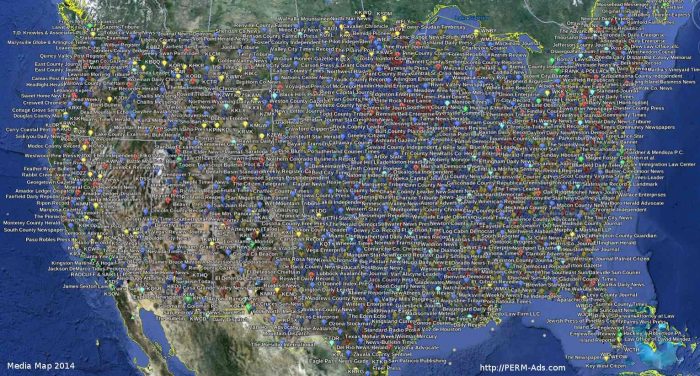 Mandatory Recruitment Options we can help you with:
Additional immigration advertisement Recruitment Steps we can help you with: (choose 3 or more)
Tear Sheets & Affidavits Included:
For newspaper print ads, we offer both hard copy and electronic tear sheets.
All radio ads come with a script, MP3, and invoice/affidavit from the radio station warranting the ads ran at a specific time and date.
Instant Delivery via Courier or FedEX. Once your ads have run, we can arrange instant delivery of the evidential documents to your office. This cuts down on waiting times and allows you to have the necessary paperwork to file your 9089 accurately and quickly.
Direct Billing Options:
We can bill employers directly using our credit card processing system, paypal, or bank wire, which frees law firms from endless and costly accounting overhead.
On-Line immigration advertisement Tracking System:
We run a state-of-the-art tracking system that is specifically designed for Labor Certification recruitment phase. Your staff can monitor classified ad placement status & evidential document collection status for hundreds of cases.