USCIS recently asked Congress for $1.2 billion in emergency funding which they claim was a direct result of having fewer applicants during the pandemic. But after an internal investigation, it was revealed that USCIS already had a history of serious financial mismanagement and counterproductive policies prior to the pandemic ever arriving.
USCIS also proposed a 10 percent surcharge on new immigration applications to pay the $1.2 billion back to U.S. taxpayers. USCIS already had announced its plans of increasing their application fees in 2019. If Congress doesn't come to the rescue, USCIS is expected to run out of funds soon and will be sending two-thirds of their employee's notices of temporary layoffs as early as next week.
USCIS's funding comes directly from the fees people pay in pursuing immigration benefits, such as applications for naturalization and petitions for noncitizen workers.
But a close examination of USCIS's operations before the coronavirus pandemic reveals a different story.  Ineffective procedures, fiscal mismanagement, and a series of policies have harmed the agency's own bottom line.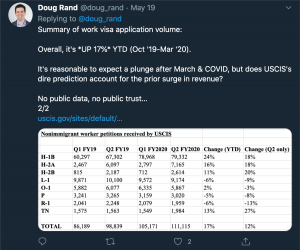 USCIS projected a 61% reduction in applications
USCIS must become more fiscally responsible.
USCIS data confirms that between 2017 and 2019 their cases already dropped by 10%.
USCIS expanded its personnel by 1/4 between 2015 and 2018 despite a 10% decline.
USCIS increased its payroll expenses while their revenue decreased.
USCIS limited certain revenue generation tools in recent months
USCIS stopped "premium processing" applications for certain petitions ($1,440 guaranteed the processing of a petition within 15 calendar days ) Although, the damage to its bottom line was already done, on June 8, USCIS reversed this suspension and began accepting employment-based petitions again but only on an expedited basis.
Immigrants feared they will be denied their benefits and lose their filing fees.
USCIS's recent public charge rule in October caused many applications to be denied which significantly affected applicants. The new policies, perhaps intentionally, made things a lot harder for applicants to file. As a result, USCIS received one million fewer applicants in 2019 compared to its 8.7 million applications in 2018.
USCIS must become more efficient.
Although USCIS hired more personnel to process petitions and applications, quite the opposite happened. The time it took for an application increased and had the worst efficiency scores USCIS has seen in a long time. It took 46% longer to complete a case. This disrupted the lives of many applicants, agencies, businesses, and families who depended on USCIS to lawfully work in the USA.
The new policies that went into effect after the recent public charge rule forced officers to spend a lot more time on petitions and applications which also contributed to their low productivity.
USCIS must become more transparent.
USCIS projected the $1.2 billion dollar shortfall in its proposed fee rule back in November of 2019, the same exact amount they're asking Congress for now.
Despite their projected shortfall and its own lagging productivity, USCIS  proposed to transfer $100 million in funding to U.S. Immigration and Customs Enforcement in the same proposal. A diversion maybe?
USCIS needs to provide more evidence of their internal accounting, including detailed expenditure data, information on per-officer productivity, and the recent growth of its fraud detection directorate.
Despite USCIS attempts to increase investigations and funding to detect application fraud, USCIS has not proved that fraud non-existent within its own walls of the immigration system.
(Photo by JASON REDMOND/AFP via Getty Images)